President's Post: Dig In Together!
"You belong among the wildflowers….
You belong somewhere you feel free." ~Tom Petty
I hope you have all had the chance to be among the flowers this summer in your gardens or on your travels far and near. I never cease to marvel at what our Colorado mountains serve up as the most beautiful banquet for our bees, butterflies and all the pollinators in the form of exquisite flowers in every shape and size.
We were lucky to find spectacular wildflowers on the second annual Colorado on the Road trip to 12 Mile Ranch in July. Meg and Stephanie from GCD and Cindi Sather from BGC hosted us in the most amazing fields of rare wood lilies, columbines, Potentilla, masses of tiny blooming wild onions and pink stalks of the favorite elephant-head (Pedicularis). Check out the photos and article below to learn about the rare and magical "fen" and how the 12 Mile Ranch community is protecting and restoring this special high-altitude ecosystem.
I feel rejuvenated and ready to "Dig In Together" with you all for two years of fun and learning in the garden club. We have a fresh mandate from our new Strategic Plan to engage more with our community in expanded ways.
Our Programs and Hospitality teams have put together a wonderful lineup of programs, so be sure to pick up your updated directory insert for times and locations at the September General Meeting. On September 13, we get a sneak-peek into the plans for the new pollinator and habitat gardens at DBG with designer Emmanuel Didier. October takes us on an adventure "up the hill" to the Chief Hosa Lodge for a special program about the award-winning restoration of Shop Creek with Bill Wenk. We will be back at the Denver Country Club for our November program with Nutritionist/Consultant/Chef, Hannah Van Ark who specializes in plant-based eating for our health and the health of our planet.
I am grateful to be surrounded by the amazing members of our leadership team who are already thinking creatively and dreaming up meaningful and fun experiences for us all. Thank you to each one of you for saying "Yes!"
Wishing you many more wildflowers as summer changes to fall!
Cindy
Tuesday, September 6, 11:30 a.m., President's Team Kickoff Luncheon, Cindy Scott's House, 845 5th Street, Boulder.

Tuesday, September 13, 10:30 a.m. – 1 p.m. September General Meeting, Denver Botanic Gardens, Mitchell Hall.

Wednesday, September 14, 9:30 a.m. – 1 p.m., Petal Power Printing with Flowers Horticulture Workshop, Denver Botanic Gardens – Chatfield.

,

Thursday, September 15, 9-10 a.m., All about GCA Judging, Missy Eliot's House, 11 Ivy Ln., Denver.

Monday, September 19, 11 a.m., Photography Committee Kickoff Meeting, Liz Walker's House, 994 S Josephine St., Denver.

Tuesday, September 20, 10 a.m., Conservation Committee Kickoff Meeting, Suellen White's House, 1322 E Bayaud Ave.

September 19-20, Shirley Meneice Horticulture Conference, Boston, MA.
The New DBG Pollinator and Habitat Garden
Our September program features landscape architect and artist, Emmanuel Didier, designer of the new pollinator and habitat garden at Denver Botanic Gardens. His recent focus is on revealing the site and ecology through artful installations. He invites people to connect to nature through experiment and intellect. Didier is a professor at CU Denver at the graduate level, and lectures both nationally and internationally about design.
The meeting is Tuesday, September 13, at Denver Botanic Gardens in Mitchell Hall and starts at 10:30 a.m. for social time, with the business meeting at 11 a.m. The program and lunch will follow. Please RSVP to reserve your spot for lunch.
Last Chance to Order Amazing Amaryllis Bulbs
We have some beautiful Amaryllis bulbs available for purchase. Order now before we sell out! A huge thank you goes to our GCD members for an incredible pre-sale and for sharing the Amaryllis sale with friends and family. Purchasers will be notified via email with more details about pick-up date, time and location. We are targeting mid-October for pick-up. Three varieties are still available for purchase – Dancing Queen, Carmen Queen of the Night and Rilona.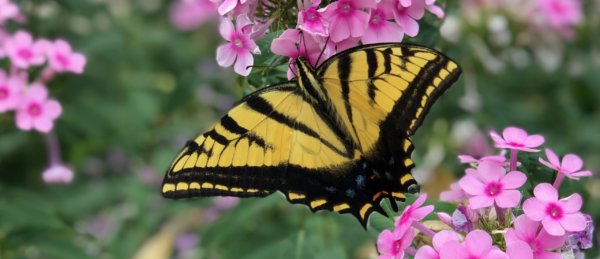 Conservation Committee Kick-off
Hello Conservation Committee members! We look forward to the next two years of robust conversations and activities focusing on conservation issues affecting our community, our nation and our planet. There are no shortages of topics and resources available to us for sharing ideas and solutions. We look forward to you joining us in the conversation. Our first meeting will be at Suellen's home on Tuesday, September 20 at 10 a.m. We hope all members attend and contribute ideas for speakers, field trips or activities. An invitation will be sent soon.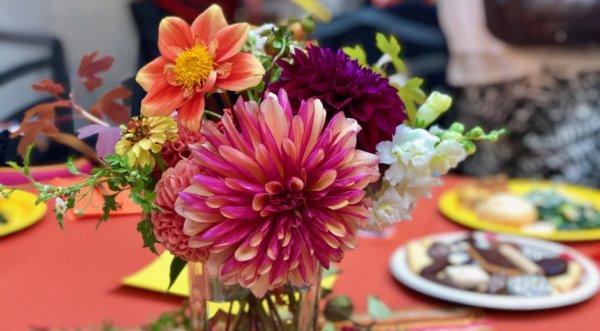 Membership Update
This has been a surprisingly busy summer for Membership. We have added two new members to our new Emeriti Category: Sally Harvey and Sissy Gibson. Sally and husband Bill have moved to Carlsbad, CA to be closer to family. Sally has always been passionate about landscaping with xeric plants. We hope she enjoys learning the native plants in her new state. Sissyhas served asa GCA horticulture judge andalso a Federated Garden Club horticulture and flower arranging judge. She's staying put in Denver, so hopefully we'll be able to call on her expertise from time to time. Our Emeriti Members now include Muffie Dahlberg, King Dobbins, Sissy Gibson, Mel Grant, Sally Harvey, Lainie Jackson, Tinka Kurtz, Susie Sheridan and Joanne Sinclaire. The Membership Committee is also pleased to share that we anticipate having several openings for new members in 2023. We encourage you to begin thinking about people who would be enthusiastic, engaged and contributing additions to the Garden Club of Denver. As noted in our new strategic plan, we are also committed to becoming a more inclusive group and we encourage you to think broadly about potential candidates. It is important that those being proposed for membership have some familiarity with GCD and have gotten to know several current members. To that end, we are expanding the number of open meetings we will have this year and encourage you to bring those you might propose to at least one of these events. Both the October and November meetings will be open meetings. The October meeting will be coffee at Chief Hosa Lodge and Bill Wenk will be speaking about sustainable design. The November meeting is lunch at the DCC and Hannah Van Ark will be speaking about plant-based eating. Members who bring a guest will be asked to pay for their guest's lunch. As always, workshops are also open to guests and are a great way for candidates to get to know members. We will share additional information about the nomination process later in the year. For now, please just help us get to know your candidates. If you have any questions, please reach out to Amy Slothower or Debbie Davis.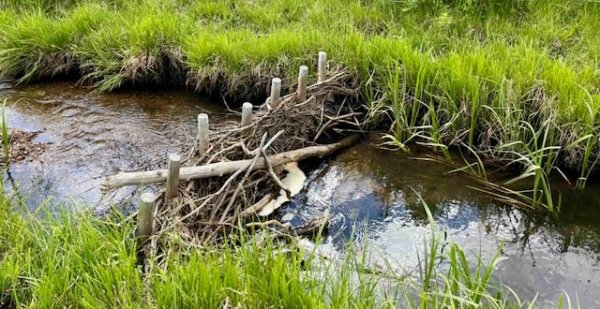 Colorado On The Road
Colorado on the Road, a joint gathering of members of the Garden Club of Denver and the Broadmoor Garden Club, met on July 12 for a day-long conservation tour of South Park hosted by Colorado Open Lands (COL) and Twelve Mile Ranch. We learned about the ecology of South Park and the efforts of COL to conserve this area. South Park is a 1,000-square-mile high altitude grassland basin with an average elevation of 9,000 feet, surrounded by majestic mountain peaks. It's located in the center of the state and has many unique features, including incredible scenic views, abundant wildlife, rare alkaline fens, and globally rare plant species. Population is sparse and most of the land is used for agriculture; both outdoor recreation and tourism are also important.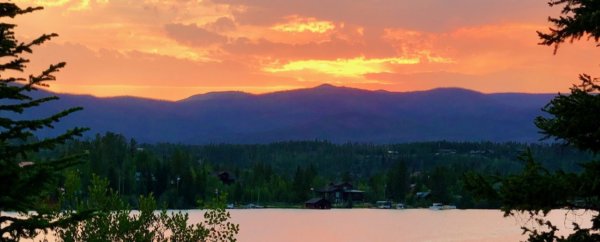 Edward Phillips Connors (1934-2022)
It is with a sad heart we pass along the news that we have lost a beloved friend of the Garden Club of Denver. Edward Phillips Connors was an Honorary Member of GCA since 1988. He was a dedicated horticulturist, conservationist and well known speaker on Art History, English and French Gardens, Landscape Design and Wilderness Areas. According to Brian Vogt, "Ed was a champion of the (Denver Botanic) gardens in every way." He brightened many of our lives and many garden club events in Denver. There will be a celebration of Eddie's life at 11 a.m. on Saturday, October 8, at the Denver Botanic Gardens. In lieu of flowers, please make any contributions to the Denver Botanic Gardens in his name by calling 720-865-3528.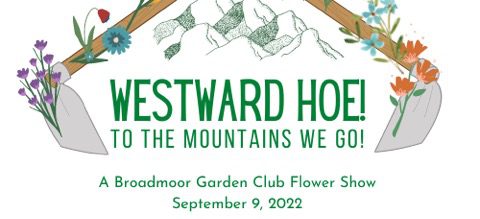 Westward Hoe – To the Mountains We Go
The Broadmoor Garden Club is hosting an In-Club Flower Show, "Westward Hoe! – To the Mountains We Go," on Friday, September 9. Following our general meeting and morning judging, we will extend the fun with a Cocktail Party and Men's Floral Challenge beginning at 6 p.m. The men's challenge is a club tradition and will be judged by esteemed longtime member Nini Maytag. The teams of husbands will each be given a container, a bucket of flowers and a time limit! It's sure to be a lively event, and we'd love for you to join usfor a few laughs, and to see what our members create/enter in Floral Design, Horticulture, Photography and Botanical Arts. We will also be unveiling our newly updated gardening guide to the Pikes Peak Region, Poppies, Pinions and Peas, which many club members have been working hard to infuse with current advice and information. It was first published by our club in 1980 and will serve as the centerpiece of our Conservation Exhibit.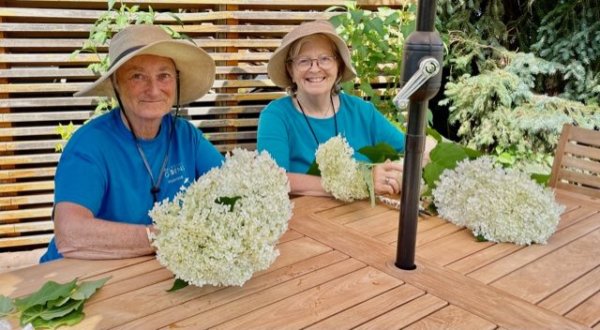 Lainie's Cutting Garden
Thanks to Linda Zinn there are a new table and chairs in Lainie's Cutting Garden. The table and chairs provide a comfortable and stylish shady spot for our fellow volunteers. We still need help in the garden this fall. Sign up for Wednesdays, 9-11 a.m., through the end of September, and perhaps into October – weather dependent.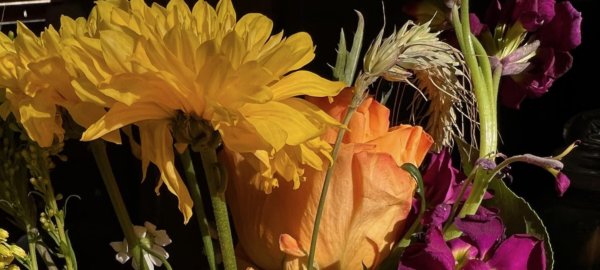 DBG Flower Arranging
Depending on the autumn weather, the Garden Club of Denver will provide flower arrangements for the information desk in the Boettcher Memorial Conservancy and the DBG Visitors Center & Gift Shop, as well as the Waring House. Three arrangements for the Waring House will be created on Mondays; one each for the information desk and the gift shop will be done on Thursdays. You can cut flowers from Lainie's Cutting Garden and we are also cutting in the plaza and paths of the Romantic Garden. All prep work both days will be done in the Waring House Kitchen. Grab a partner and enjoy an early morning visit to DBG to cut and arrange beautiful, fresh flowers.
Mission: Founded on a mutual love for gardening and the natural beauty of Colorado, the Garden Club of Denver seeks knowledge and expertise in horticulture, conservation, floral design and photography, and shares these ideas and skills with its members and the community.
Vision: Dig In with Us!
GCD Board and Committees 2022-2024

Executive Committee

President: Cindy Scott

Vice President: Amy Mower

Corresponding Secretary: Mary Talbot

Recording Secretary: Lynn Dolven

Treasurer: Sally Obregon

Director: Meg Nichols

President's Council

Conservation and NAL: Stephanie Tryba and Suellen White

Membership: Debbie Davis and Amy Slothower

Floral Design: Elizabeth Weigand with Martha Veldkamp and Lisa Duke

Horticulture: Suzanne MacKenzie and Ann Ellis

Photography: Liz Walker and Liza Grant

Other GCD Committees

Amaryllis Bulb Sale: Leslie Liedtke and Nancy Jones

Colorado on the Road: Janet Manning and Becky Schaub

Community: Kathleen Thomas

Directory (Roster): Deborah Foy

eNews: Ann Crammond and Bar Chadwick

Flower Show: Dodie Jackson and Caroline Rassenfoss

Garden History & Design: Holley Sanford and Sarah Alijani

GCA Awards and Founders Fund: Jane Davis and Courtney Marsters

GCA Bulletin & Communications: Nan Procknow

History and Bylaws: Sheilagh Hudon

Hospitality: Sarah Alijani and Tracy Zarlengo

Judging: Missy Eliot

Nominating: Meg Nichols

Programs: Kelly Stava with Mary Fowler and Lise Woodard

Scholarships: Lindsay Dodge

Visiting Gardens: Lisa Gould

Website: Alice Hughes

Denver Botanic Gardens Committees

DBG Cutting Garden: Nancy Schotters

DBG Fete Liaisons: Nina Sisk, Nancy Jones, Mary Schaefer, Missy Eliot with Cora Wheeler

DBG Flower Arranging: Floral Design Committee and Elizabeth Weigand

DBG Holiday Decor: Linda Zinn
The Garden Club of Denver
7165 E 2nd Avenue, Denver, CO 80220