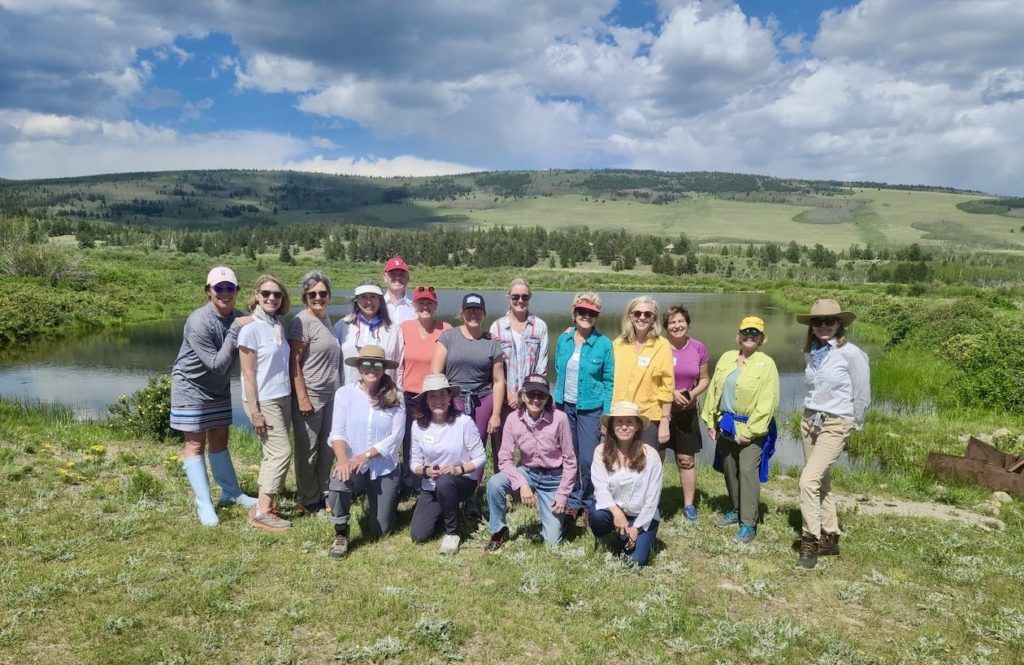 Colorado on the Road, a joint gathering of members of the Garden Club of Denver and the Broadmoor Garden Club, met on July 12 for a day-long conservation tour of South Park hosted by Colorado Open Lands (COL) and Twelve Mile Ranch. We learned about the ecology of South Park and the efforts of COL to conserve this area. South Park is a 1,000-square-mile high altitude grassland basin with an average elevation of 9,000 feet, surrounded by majestic mountain peaks. It's located in the center of the state and has many unique features, including incredible scenic views, abundant wildlife, rare alkaline fens, and globally rare plant species. Population is sparse and most of the land is used for agriculture; both outdoor recreation and tourism are also important.
At the overlook near Kenosha Pass, we stopped and took in the view of grasslands, ranches and smaller homesteads and could see an area struggling to grow enough hay for these ranches. The Ute and Arapaho were original inhabitants of this land, which was home to a rich riparian ecosystem with bison, beavers and a marshy basin that was almost impassable at certain times of year. As the years went on, trapping began, bison moved out of the valley, gold was discovered, and settlement came to South Park. Settlement brought cattle ranches and depleted the water supply drying up wetlands and changing the landscape. Even those of us who were born and raised in Colorado were surprised to learn this area was originally a wetland, with abundant wildlife, meandering streams and rivers, and beaver dams. We have drastically changed the landscape of South Park!
Colorado Open Lands has been working strategically for many years to develop conservation easements in this important region of our state. Current efforts include a focus on "Riparian Reconnect," restoring riparian areas to improve natural stream flow, restore floodplain connectivity, and benefit wildlife habitat for key functional species or umbrella species. Umbrella species sustain a wider array of other species, which, in turn, support the processes necessary for the restoration of an entire ecosystem or habitat.
Seeing all of this play out at Twelve Mile Ranch helped these concepts come to life. We toured two of their 17 homesites, one a rustic cabin belonging to Ed and Meg Nichols built in the 1930s and the other a much newer cabin built in 2010 by David and Stephanie Tryba. In true garden club style, delicious box lunches were served at tables decorated with wildflowers. Barbara MacFarlane brought a large bowl of fresh raspberries from her garden to add to the dessert.
After lunch, members toured various parts of the property. Some visited a rare protected high-country fen, a permanently saturated wetlands typically fed by a steady source of ground water, and usually alkaline and nutrient rich. Others hiked through meadows of incredible wildflowers, including wood lilies (Lilium philadelphicum) in peak bloom. To view the Colorado columbine (Aquilegia caerulea), some intrepid souls forged several streams to reach the forests where the columbines bloomed. We saw "beaver diverters" that help discourage beavers from building dams that would lead to flooding infrastructure, such as roads. We also saw "beaver enhancers" that encourage beavers to build dams that would help slow the water. According to 12 Mile Ranch staff, beavers are incredible engineers and do an amazing job of slowing waterflow, but they don't always do it the way we humans would like it to be done and that has led to a significant decrease in their numbers.
This year's participants in Colorado on the Road came away with a much better understanding of the challenges, benefits and importance of land and water conservation. We also left with a heightened appreciation for the impact fellow garden club members are having on the South Park area. Being together, understanding a new perspective, seeing rare wildflowers and forging friendships are what Garden Club is all about.