Purpose
To set standards of artists and horticultural excellence; to broaden knowledge of horticulture, floral design, conservation, photography and other related areas; and to share the beauty of a show with fellow club members and the public.
The Garden Club of America Flower Show and Judging Guide, July 2019 Edition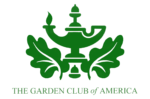 The Garden Club of America
The purpose of The Garden Club of America is to stimulate the knowledge and love of gardening; to share the advantages of association by means of open meetings, conferences, correspondence and publications; and to restore, improve and protect the quality of the environment through programs and action in the fields of conservation and civic improvement.

The Garden Club of Denver
Founded on a mutual love for gardening and the natural beauty of Colorado, the Garden Club of Denver seeks knowledge and expertise in horticulture, conservation and flower arranging and shares these ideas and skills with its members and the community.

The Denver Botanic Gardens
The mission of Denver Botanic Gardens is to connect people with plants, especially plants from the Rocky Mountain region and similar regions around the world, providing delight and enlightenment to everyone.
Statement of Intent
The Language of Flowers (or floriography) is the means of communication through the use or arrangement of flowers. Meaning has been attributed to flowers for thousands of years, and some form of floriography has been practiced in traditional cultures throughout Europe, Asia, and Africa.
The interest in floriography in Victorian England and in the United States soared during the 19th century. Gifts of specific blooms, plants, and floral arrangements were used to send a coded message to the recipient. This allowed the sender to express feelings which could not be spoken aloud in Victorian society. Armed with floral dictionaries, Victorians often exchanged small "talking bouquets" called nosegays or tussie-mussies, which could be worn or carried as a fashion accessory. The Victorian use of flowers as a means of covert communication bloomed alongside a growing interest in botany.
Please join us as we celebrate this historic and traditional mode of floral communication exhibited through floral design, horticulture, photography, botanical arts and the conservation and education exhibits.
Our recommended references for "The Language of Flowers" are Flowerpaedia, 1000 Flowers and Their Meaning by Cheralyn Darcey and The Complete Language of Flowers, A Definitive and Illustrated History by S. Theresa Dietz.