Do you do Instagram? If not, maybe you should consider it. And if you do, then we have some suggestions to enhance your viewing pleasure. It's an easy App on your iPhone. If you don't know how to install it yourself, just ask someone under the age of 50! The websites for all of those listed below can also bring inspiration.
"Following" floral designers from all over the world while sitting on your own patio, can provide you with an unlimited fund of ideas that are visual and right there in front of you. In living color.The possibilities are endless, but here are a few to get you started.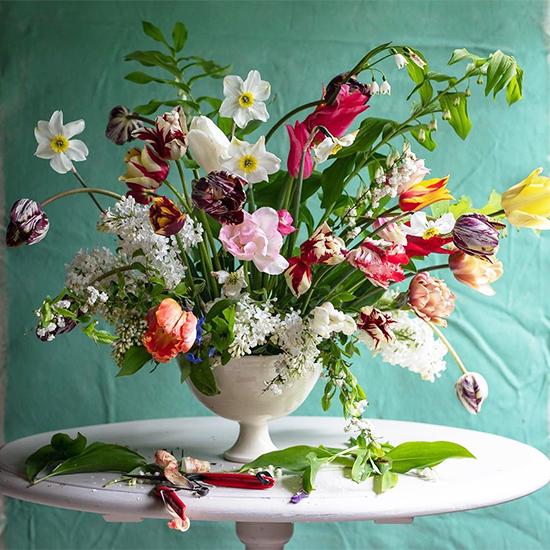 From England
Shaneconnollyandco: Beautiful installations both large and small; charming combinations of color and textures; great information and inspiriting tablescapes.
Flowersanddamsons: Shop owner, Anna Potter, opened her business in Sheffield, England and focuses on the warm, pastel, traditional feel. You will love looking at the photos of her arrangements and spaces.
From the United States
Francespalmer: Located in Connecticut, these designs originate in an 1854 house in Weston, CT where Frances Palmer has collaborated at times with Aerin Lauder on table designs as well as designs with the natural look.
Putnamflowers: New York based but taking inspiration from all over the world, these two designers seek to create flowers that will remind you of European still-life paintings.
Flowerschoolny: Flower School New York will wow you with designs in bright colors and striking combinations. They do travel the world and share their work and products from destinations such as Mexico, France, England, and Los Angeles. Not only is their Instagram page wonderful, but their website is mouth watering as well.
Emilythompsonflowers: With her base in New York City, this florist also embraces the natural world with branches and blooms.
Renegadeflowers: Based in Santa Fe, Melissa Paquin produces stunning designs that often reflect the high desert feel. Totally elegant and intentional.
From Spain
Danielsantamariafloralartisan: You might remember Daniel from the GCA workshop he did in Denver last fall. He is always unusual and a little edgy.