Thank you to everyone who purchased amazing amaryllis bulbs through our annual fundraiser sale! We are on track for a record year, and we have just a few remaining bulbs before we sell out completely. Orders will arrive in Mid-October at a central Denver location. There will be no shipping, so please plan to pick up your order. For more information, contact Leslie L. or Nancy J. or Nina S.
Click here to order
Lemon Lime – new this year
Yellow amaryllis are extremely rare and this one delivers stunning yellow-lime green blooms. Amaryllis Lemon Lime flowers are a citrusy color in a soft shade that hovers between light frosty yellow and pale green. 
Botanical name: Hippeastrum 'Lemon Lime'
Height: 22-24 Inches with 4-5″ flowers.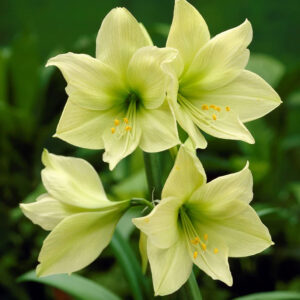 Rapido – new this year
Rapido is a beautiful, vibrant and festive red flower that is a prefect compliment for your holiday decorations. This bulb produces many beautiful flowers on multiple stems.
Botanical name: Hippeastrum 'Rapido'
Height: 18-20 Inches with 4-6″ flowers.